Food 2 Room Service Trolley - A new Skanos Innovation in the Making
Room service is one of life's greatest luxuries when we're on the move and enjoying the offerings of our amazing Australian Hotels and Resorts. When you work as closely as we do with these industry leading commercial kitchens and foodservice professionals, you come to learn of several challenges they face daily when it comes to delivering food to guests at optimal temperatures, and in just-cooked condition. It might come as a surprise that many room service trolleys on the market, are just not cutting it in terms of adequate capacity, versatility and usability for our high-end venues' operational needs.
Skanos has a history of manufacturing new innovations specifically suited to the Australian market and our unique food service requirements. The Aussie designed and engineered Stackmaster Plate Stacking Trolley is one such invention answering unique industry challenges.
How are we helping Hotels and Resorts with Room Service?
What we have been hearing from many Hotel and Resort kitchens is that their current room service trolleys are proving difficult to maneuver, they don't hold enough prepared meals, and in many cases are not equipped to deliver meals at exact and optimal temperatures. In terms of aesthetics, some don't quite stand up to the level of quality five, and six-star resort and hotel guests expect.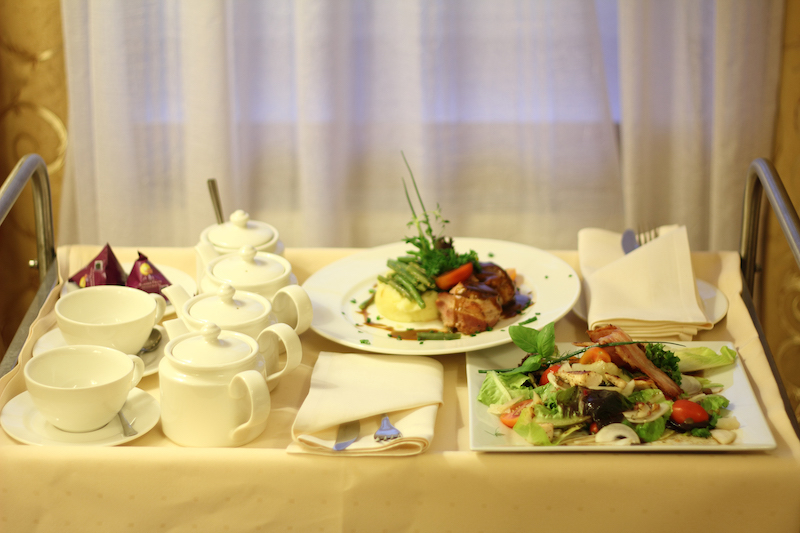 The volume of meals that can be delivered at once is minimal. In many of these venues service staff will cover great distances up and down lifts and long corridors. A room service trolley system with more capacity; that glides in and out of tight spaces with ease and doesn't create a larger footprint is long overdue.
When room service is a luxury, the manner in which it is delivered should also be luxurious, fast, high quality and efficient. We've been working to design a unique solution for our Hotel kitchens, their delivery staff and their guests.
Introducing the Food 2 Room Service Trolley
This prototype is currently being trialled across several top Hotels in Sydney with positive results. While it is a work in progress, it is already solving some complex issues for room service kitchens. With increased food holding capacity there is reduced congestion around service lifts, and increased staff safety and productivity.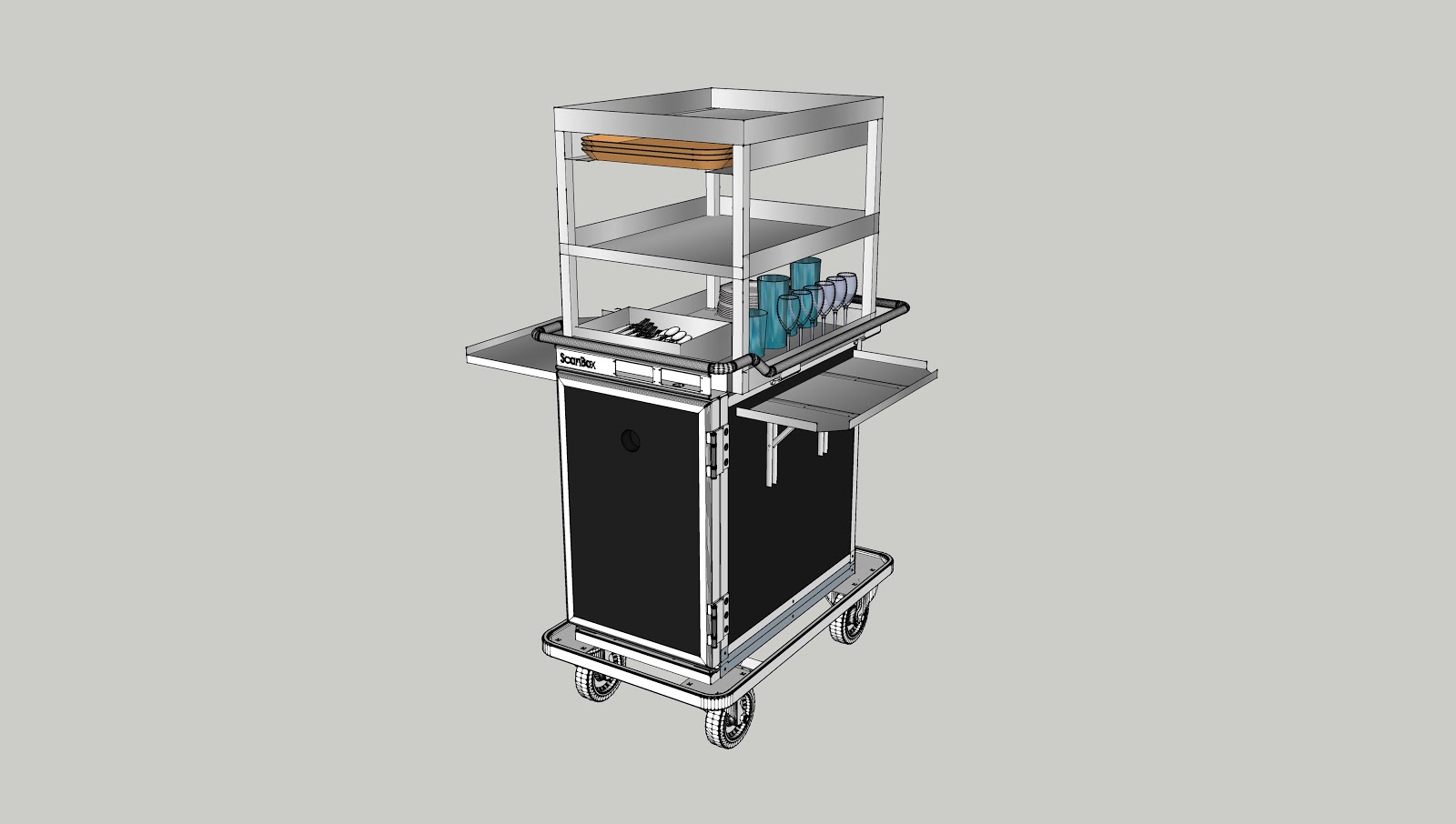 Using a ScanBox hot, cold or ambient cabinet base, these food transport systems hold food at precise temperatures over considerable time periods. Convection heated or compressor refrigerated for optimal temperature recovery despite frequent door openings, helps eliminate the need for bulky and unattractive insulated plate bases and covers. ScanBox ergonomic tow handles and lightweight maneuverability enhances user safety and speed of delivery.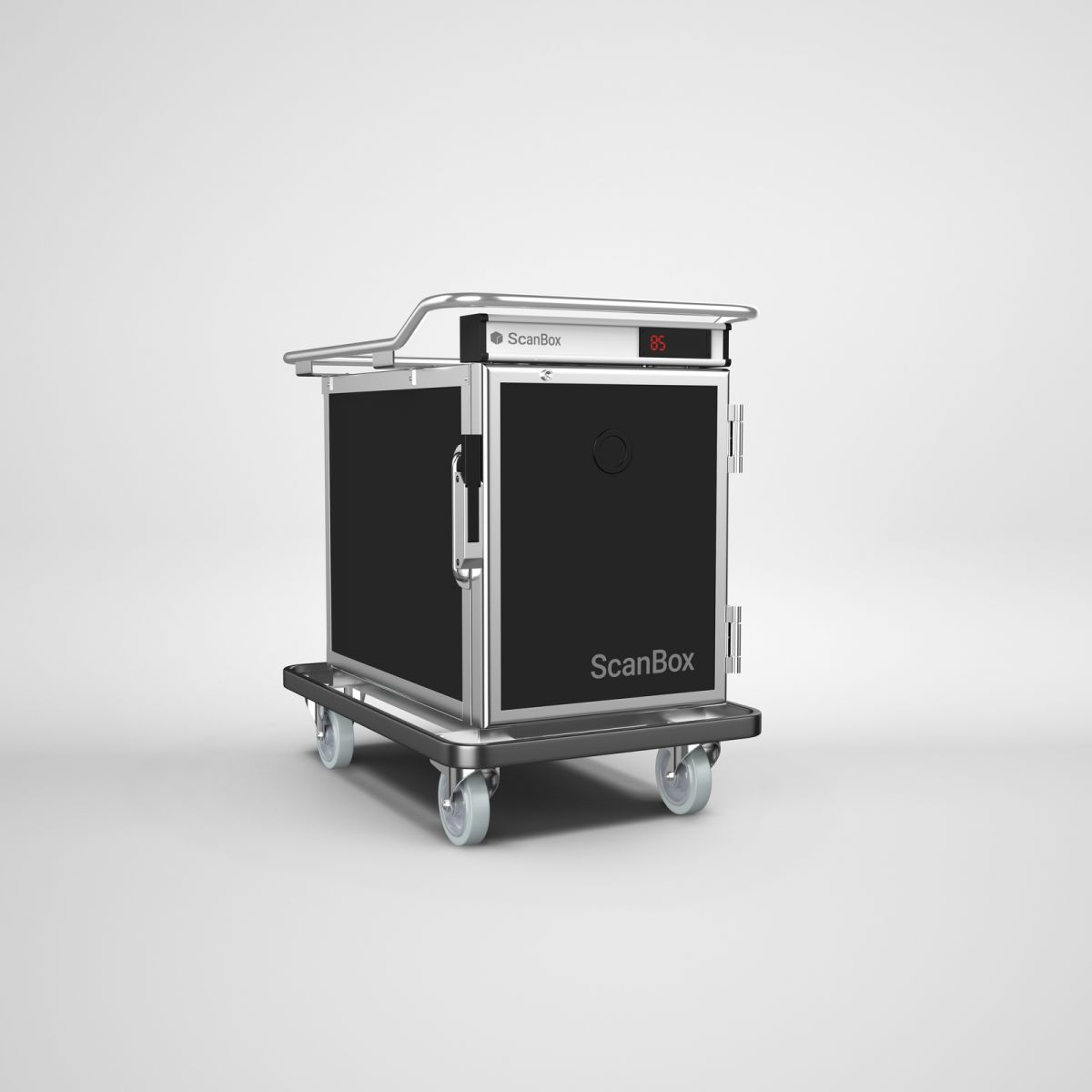 Your staff can get there faster, easier and deliver a higher volume of meals at the ideal temperature. To top off the list of benefits, the classy European design looks sleek and elegant. Your ScanBox can be company branded and is available in a range of colours.
Next-generation Room Service Trolley
Our idea is to couple the innovative ScanBox food transport technology with a two to three shelf top section, and foldable side shelves, allowing storage of cutlery, crockery, glassware, cleared dishware and other ambient goods. We are hearing concerns that many common room service trolleys on the market just don't hold enough weight, nor volume to meet demand.
We're currently collating feedback of our first prototypes, and we welcome any other Hotels or Resorts that are experiencing difficulties in room service or prepared food delivery to free trial our Food 2 Room Service trolley, and/or a ScanBox system. We'd love your valuable input and advice on how we can better serve you in getting your first-class meals from A-B quickly, efficiently, safely and in perfect condition. Room service has never been easier or looked so good.